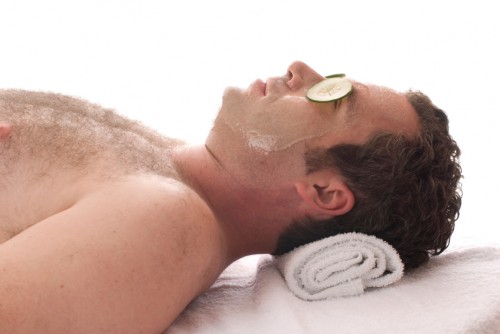 Your superman, jungle gym, coach, tutor, teacher, mentor, protector, best friend, buddy, pal, go-to-guy, poppa bear, daddy-o… No matter what you call him, we are willing to bet the lawnmower, the powertools, and the '57 Chevy that your Dad could take better care of himself. Dads are notorious for making sure everyone else in the family wants for nothing, whether it's dolling out extra dollars for that school field trip, secretly buying you the expensive pair of shoes that Mom denied you, or treating the whole team to ice cream after a big game. Dad's are always dolling out the dough to make others happy. But what about Pop? Shouldn't Dad be allowed to escape the stresses of work and family and just take some time to relax… without breaking the bank? OF COURSE!
The spa is the perfect place for Dad to unwind and recharge while focusing on his overall health and well-being.  There are lots of guy-focused treatments, like Deep Tissue Massages and Gentlemen's Facials, that  provide tangible wellness benefits (improved circulation, decreased blood pressure) without making Dad feel like a girly-girl. In honor of Father's Day (June 17th), check out these 11 Spa Deals treatments that are perfect for pampering Pop…
$98 90 Min Father "Heal" Hot Stone Massage or Deep Tissue Massage at Elizabeth Adam Salon And Day Spa in Chicago, IL. (Was $156)
$80 Gentlemen's Ultimate Customized Facial with Scalp Massage or Brow Cleanup at Princeton Center for Plastic Surgery & Medi Spa in Princeton, NJ.  (Was $105)
$100 "Dad's Day Off" Package, includes: 60 Min Swedish Stress-Reducer Massage, Mini Men's Facial, Foot Exfoliation, Massage, and Warm-Towel Wrap at Touch Of Tranquility Massage in Gilbert, AZ. (Was $150)
$92 50 Min Gentlemen's Custom Organic Facial at Bella Tosca Day Spa and Salon in San Diego, CA.  (Was $115)
$90 2 Hour Father's Day Package: includes Gentleman's Facial, Manicure and Pedicure off at Northshore Nails and Day Spa in Glenview, IL. (Was $115)
$80 50 Min Adonis Men's Facial at Jamachi Medi-Spa in Silver Spring, MD.  (Was $100)
$150 Just For Dad Package: 60 Min Xanadu Massage, 60 Min Gentlemen's Facial and Spa Access  at Spa Xanadu in Arcadia, CA  (Was $190)
$45 Spa Week Pedicure with Hydration Therapy perfect for daddy feet at 80 LifeSpa locations Nationwide. (Was $70)
$139 Laser Hair Removal for Men's Partial Back at Alegria MedSpa in Torrance, CA (Was $169)
$155 Dad's Delight Package, includes: Bath, Massage and Pedicure at Penterra Spa at The Heathman Hotel in Kirkland, WA (Was $185)
$80 70 Min Father's Day Relaxation Package, includes: 35 Min Swedish Massage and 35 Min Stress Relief Facial at Vital Touch Spa & Salon in La Habra, CA. (Was $85)
After you book Dad a Spa Deals appointment, make sure he gets the most bang for his buck with a Spa & Wellness Gift Card. Get a $100 card on sale for just $85 from now until June 18th.