How many times have you said to yourself in the past week, or the past month, "I wish I had taken better care of myself when I was younger" or "My body is just not what it used to be"? Here at Spa Week Daily, we've heard from both our writers and readers alike tales of regret and triumph when it comes to the battle of aging gracefully. With the unavoidable topic of aging at the forefront of conversation in the spa world especially, we have asked some of our expert blogger friends to share their wisdom and insights.
Our friend, Peggie Walker, is the Executive Editor & Lifestyle Consultant for The Quest for It. She recently re-ignited her longtime passions in the areas of inter-generational beauty, fashion, and health/wellness lifestyles. Many of her articles reflect her long-time practice of living and promoting an age defying life. Early on in her career, Peggie worked at a local New York City School of Modeling where she developed and instructed classes in model makeup, exercise, and fashion. During the 90s, she worked as a Certified Personal Trainer while working toward an MBA Degree in Marketing. Peggie considers herself a warrior against the aging effects of gravity, both physically and mentally. Her quest continues to be filled with aspiration, inspiration, and education.
In this three-part series, Peggie will share with us her experiences, tips and tricks to help us all age more gracefully, at any age.
By Peggie Walker
When you're in your 20s, getting old seems so far away. You're just active enough and your body is just resilient enough not to notice that you ARE getting older. In your 30s you start to notice, "I am getting older."  Then in your 40s & 50s you start to feel, "I am older" and in a way that makes you realize you must improve your health, diet and physical lifestyle.
Biological Age vs. Calendar Age
Recently there has been a societal shift toward a youth-oriented culture that has led to a desire to look as young as we can for as long as we can.  But as we grow older, we realize it's not enough to look good, we need and must feel good, too.  Because of this, calendar age has become unimportant.  The number of years we have been alive, our chronological age, is not as important as our biological age, which includes changes in the physical structure and shape of our bodies. The good news is we can combat aging with exercise because exercise has age-stopping powers on a cellular level. With exercise, you literally turn bad genes off and good genes on, dipping into your own personal "fountain of youth."
Exercise is Preventative Medicine
So how do you get started and stay motivated?  I tell people of all ages exercise doesn't have to be boring. You don't have to hate it. You can find a workout routine and quick fun alternatives that can keep you healthy and in shape.  Start with what works for you by recognizing what works for you.  Would you prefer to go it alone on some days (walking or running), or prefer a social setting on other days (group classes)? Or, how about mixing it up (solo one day, group setting the next–outdoor one day indoors the next)? If you are just starting out or returning to a workout regime after an absence, you may find it necessary to work with a trainer in order to learn proper form and movement thus avoid unnecessary pain and injury.
Find What Works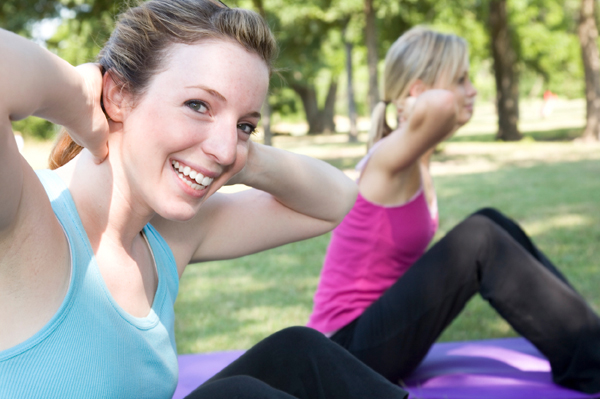 There are two types of exercise: aerobic (jogging & bicycling) and anaerobic (resistance weight training). The best types of exercise combine 3 elements: Stamina, Strength, and Suppleness. Cardio builds stamina, resistance builds strength, and stretching leads to suppleness.
At home: I suggest working out with an exercise ball — it's a fun, total-body workout. It can be done in a group setting or in the privacy of your own home. Try laying your lower back on the ball, with your chest and shoulders up of the ball and your legs bent at a 90 degree angle securely planted, hips-width apart, on the floor. With your hands behind your head, slowly curl into a crunch, hold, and release back down to touch your upper back to the ball. Repeat 12-15 times for one set. In between sets, do 50 jumping jacks or jump rope for 60 seconds. Do 2-3 sets.
On the go: Exercising on the go is an added way of increasing your fitness level and shaping up when there's little time to spend at the gym.  Training yourself to always be on the lookout for opportunities to incorporate exercise in your daily life will help you maintain the mindset that exercise is a fun, healthy way of life, not just a now-and-again-thing. When you're out and about, dip into a squat or a lung when reaching for something on the floor (shapes butt and legs), or find a wall to do push-ups against (strengthens upper & lower body), or on the edge of some stairs, push up and down on your toes (shapes calves) or alternate lifting legs high in marching style at your desk (works core and lower back). These little techniques can be carried out all day and incorporated into the mundane activities or chores you do every day.
Get To It
With good exercise habits and a healthy diet, you can have beauty and style in your 20s that lasts into your 60s and beyond. If you make the time, and are consistent, you will look and feel amazing at every age.  Start now!
Comments