It's the first ever fashion magazine to materialize as a spa, and Spa Week is SO on board! We are pleased to announce that this year we're working with ELLE Spa and Eden Roc Renaissance Miami Beach. Now, before I get into all the JUICY, GORGEOUS, HAUTE-SPA photos and details of ELLE Spa below…
We're kicking off the year Spa Week-style with a giveaway, the ELLE Spa Serenity Sweepstakes. From now until March 11th, enter to win a three-night stay in an ocean view room at Eden Roc Renaissance Miami Beach, a $150 Spa Credit and 50% discount on a second treatment at ELLE Spa, and an indulgent ELLE Spa gift.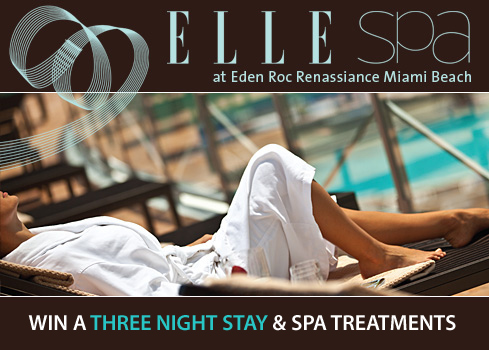 As Spa Week CEO and President Cheryl Reid put it, "The ELLE and Eden Roc names are iconic in the luxury industry, and we're pleased to bring such prestige to the Spa Week community."
About ELLE Spa
With floor-to-ceiling windows overlooking the hotel's lush tropical gardens and ocean, four infinity pools and sweeping seascape, the 22,000 square foot space boasts design and décor inspired by the Mediterranean coastline. High-coved ceilings, whitewashed walls, natural stone, water and wooden elements create a calm and chic environment for the ultimate spa escape. ELLE Spa provides the perfect balance of relaxation and escape from Miami's electric nightlife. Michelle covered ELLE Spa when it was announced back in Spring 2011; now watch it spring to life.
What makes ELLE Spa unique?
Editorial Spa Treatments
One of the coolest things about this magazine-inspired spa is that their treatments are all curated by ELLE editors and the skin and beauty experts regularly featured on their prestigious glossy pages. Their menu features treatments curated by experts including celebrity esthetician, Tammy Fender and Yael Alkalay, founder of the organic beauty line Red Flower. ELLE spa also features exclusive services incorporating Red Flower products, including a healing chlorophyll bath,  an antioxidant-packed wrap with pomegranate seeds and Moroccan rose oil, and a customizable scrub bar with organic oils, biodynamic honey and sea salts.
The hands-down most luxurious facial experience on the menu was designed exclusively for ELLE Spa by Tammy Fender. On the spa's magazine-like menu (see below), the treatment description reads: "Harmonize and balance your body with a holistic consultation, a personalized selection of pure essential oils, oxygen therapy, and foot reflexology. A rich mix of 87 vitamins, minerals, enzymes, and amino acids stimulates the regeneration of healthy new cells, increases circulation, and deeply restores and hydrates for lifted, glowing, and luminous skin." Now that sounds like a facial that will get you cover-ready in no time! Want your facial with Tammy herself? She can be booked – but make sure you do it well in advance.
Exclusive Retail Boutique
ELLE Spa's retail shop offers the ultimate selection of luxury spa products, apparel and beach accessories, handpicked by ELLE editors. In addition, essie has developed two eye-catching, custom nail colors (the neon-pink "Eden" and the bright-orange "Roc"), both sold only at ELLE Spa.
VIP Suites and Amenities
ELLE Spa guests can also take advantage of the boutique hair and nail salon, a 24-hour beachfront fitness center with a group exercise studio, and an expansive rooftop deck with VIP cabanas (complete with light dining and beverage service). Select treatments range from individual procedures for guests on the go to bridal packages and all-day couples VIP Suite retreats, complete with inspiring oceanfront views, rooftop dining, chocolates, champagne, a shared whirlpool tub, rain shower, and cozy beds. Depending on your schedule, you can spend less than an hour or even a whole day experiencing wet spa areas with hot whirlpools, cold plunges, steam sauna and hydro-experience showers, before being escorted to the decadent relaxation lounge.
Eden Roc Extras
Each room at Eden Roc comes with luxurious amenities including flat screen TVs, air conditioning, floor-to-ceiling windows and soundproof rooms. The Lobby Bar is one of the hottest Miami Beach restaurants and features contemporary cocktails, innovative dining and a DJ on Saturday nights. With prime oceanfront location on prestigious Millionaire's Row overlooking Miami Beach and the Intracoastal Waterway, Eden Roc is close to the Bal Harbour shops, South Beach Lincoln Road Mall, several art galleries and the world-renowned South Beach Art Deco and Entertainment District. The marina is located directly across the street so you can dock your yacht or book lavish charter yacht excursion. Plus, Miami Beach Golf Course a stone's throw away, just in case you bring a date.
For more on ELLE Spa and Eden Roc, visit: http://www.edenrocmiami.com/miami-beach-spa-resort-hotel/Elle-Spa-28.html
Enter to win the ELLE Spa Serenity Sweepstakes, here.
From Our Partners