Today isn't just 11/11/11, it's Veteran's Day, a day for us to thank the servicemen and women of this country. Our small tokens of gratitude are incomparable to the sacrifices they've made for us. So be sure to take the time to say "thank you" and let them know you are grateful.
Many soldiers return home with battle scars (or even more severe injuries). We can't think of anyone who deserves to be rubbed down and healed with the power of a massage more than our military men and women. We know the healing capabilities of a massage which can offer relief after a major surgery or after several tours of duty.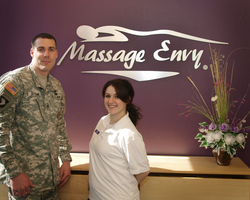 Massage Envy supports the troops and provides a military discount year round. In honor of Veteran's Day they are offering a FREE one hour stress-relieving massage. Not only is this for active military personnel but retired and spouses of military personnel as well.
Find participating locations near you on Massage Envy's website. Most locations in New Jersey, Arizona and Las Vegas accept the Spa & Wellness Gift Card by Spa Week – check our gift card spa directory for details.
Comments